About ActivMan
ActivMan takes all the good features of Microsoft's Active Directory Users MMC snapin, and adds some extremely useful features, i.e. mass manipulation, templates, importing of users, and extracting using directly from your MIS (e.g. SIMS), whilst also improving the efficiency of managing users.
| | |
| --- | --- |
| | Extract students and staff DIRECTLY from your MIS |
| | Synchronise Active Directory to your MIS |
| | Fast and reliable! |
| | Automatically disable students and staff who have left |
| | Create home folders and shares automatically with permissions! |
| | Apply templates to existing users |
| | Execute actions (custom scripts) when certain events occur |
| | Supports users moving between sites |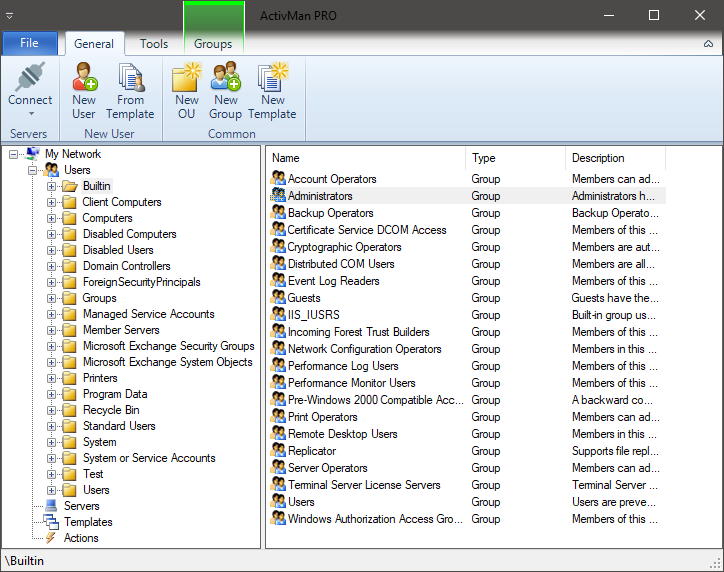 ActivMan is an out-of-the-box Active Directory user manager designed to be easy-to-use and to drastically improve the process of creating new user accounts, home directories, and shares of new students and staff, whilst also disabling/moving/deleting (optionally) students and staff who have left. It has all the essential features an organisation requires in order to drastically improve the process of managing user accounts. In essence, ActivMan will synchronise your Active Directory network to your MIS. With new features and customer requests being developed all the time, ActivMan is the perfect choice as your user manager solution.
Supported MISs
| | |
| --- | --- |
| | Capita SIMS |
| | Serco CMIS |